Panel Frames and Bezel Kits
Our Products
:
Case Accessories
>
Panel Frames and Bezel Kits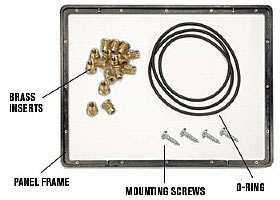 Panel frames allow the simple attachment of an interface panel flush with the rim of the case. The depth of the lid allows switches, buttons, connectors and ports to stand up from the panel face. We provide the mounting bracket, fasteners and o-ring which install beneath the panel and fit against tops molded inside the case walls. A polymer o-ring seals the panel so the case remains watertight, even with the lid open. Pre-drilled holes and stainless steel screws make fabricating a custom case faster, stronger and more accurate. panel frame inserts The interior of the lid is also commonly used to attach accessories such as a wiring race, device holster or Pelican's optional lid organizer sets. Select larger cases offer mounting bosses inside the lid for use with screw fasteners
Browse these categories under "Panel Frames and Bezel Kits"
---
Featured products under "Panel Frames and Bezel Kits"