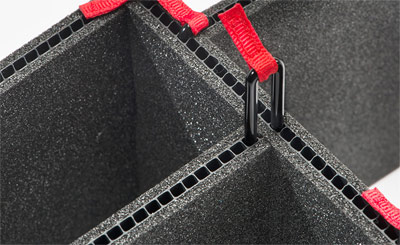 The
TrekPak
system uses pre-installed wall sections, divider panels, locking pins and a fool-proof cutting tool. Just lay your gear in the case, measure and cut the divider sections and lock them in place with the steel U-pins.


The divider sections are manufactured from waterproof, closed cell foam that is laminated to a rigid corrugated plastic panel. Light, strong and almost impossible to tear or shred, these panels will keep your gear safe for years.*

Trimming the dividers to length is a snap. TrekPak exclusive double blade tool has a center guide that tracks in the corrugated center,r. Just place the tool in any hole and pull The blades follow the slot for a perfectly straight cut every time.

* While this system will work well for many applications Custom Case Company does not recommended it for fragile or vibration sensitive equipment that may be subject to situations where you are not personally handling your equipment and (or) the case may be subjected to rough handling or drops). For these situations we recommend the Padded Divider sets, Pick n' Pluck or Custom Foam that is available in Open ,Closed cell, or Crosslink foam in a variety of thickness and combinations.